Corporate Headshots: How To Prepare For Your Session
A guide to the key factors to consider so you get the best results from your corporate headshot session.
Overview
Your corporate headshot is a great way to shape how people think and feel about who you are as a professional and about your organisation. Your professional headshot should therefore align with both your company brand and your own professional brand.
As with any other branding exercise, the usual questions should be asked:
Who are your customers?
What do you want them to think when they see your headshot?
What message are you trying to convey?
There are few hard and fast rules for professional headshots. Ultimately, whatever works for you is right. With that in mind, here are some general guidelines to consider.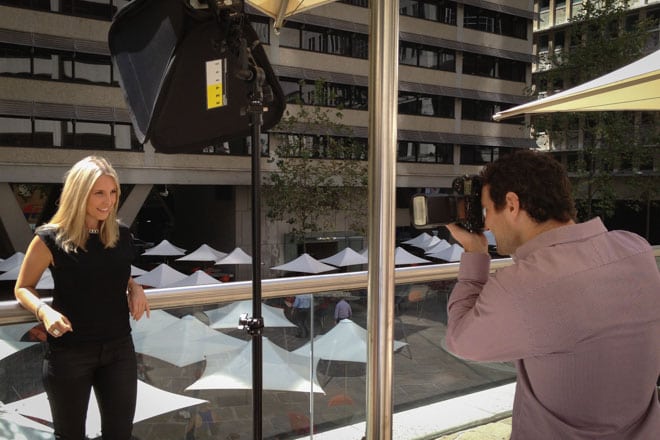 Clothing
Many organisations have guidelines for staff so as to achieve a consistent "look". There may be more or less wriggle room within these guidelines. You should check these first, and then overlay our advice.
The major consideration is the level of formality you have in mind. In industries such as law or finance there has traditionally been more formality, whereas in the creative industries dress codes have been more casual. In general we've noticed an increasingly casual approach across the board.
For More Formal Attire:
Dynamic high contrast combinations such as a dark jacket, white shirt and bold tie, scarf or accessories are often a good choice.
Suits should be well pressed, and shirts freshly ironed if possible. Newer, well-fitted items will always look better.
Jewellery is best kept minimal.
Light coloured suits and pastel colours don't tend to work well.
Busy patterns should be avoided.
Bare arms or short sleeves can look less "professional" in more formal photos.
Unusual or quirky clothing can be eye catching, but doesn't necessarily translate well into a headshot. For example, asymmetrical items can look lopsided.
For Less Formal Attire:
A dark jacket with open neck shirt or blouse looks great.
Without a jacket, a casual shirt, polo shirt, t-shirt or dress all work well but it's best to avoid white or light toned items.
Jewellery is fine, but too much can become a distraction.
It's best to avoid prominent branding (except your own!).
For All Attire:
Make sure your clothing fits well and is ironed and pressed.
Darker clothes will put more attention on your face
Avoid logos, prominent branding, and busy prints
Hair
Recently cut or styled hair is great, and lots of our clients like to get a blow dry on the day of the shoot.
Flyaways can be distracting, so we bring some spray with us to help with this.
For men who prefer to be clean shaved, it may be worth having a second shave if the photo is being taken later in the day.
Makeup and Skin
Make sure you're well hydrated and rested for the shoot – it's amazing how much better we look when we've had ample water and sleep!
We can arrange to have a professional hair and make-up artist at the shoot, and they can do anything from quick touch ups to a full makeover.
Alternatively, some people choose to have professional makeup applied for the shoot. If you go for this option it's best to advise the makeup artist that it's for a photo session so that they use products that work best with flash photography.
As a minimum, it's best to apply a matte powder to avoid any shine that can result from the bright flash. This is especially the case on hot and humid days when we can all glow a little more than we'd like! We bring a neutral matte powder so it's easy for both men and women to touch up before the photo.
Beyond that, it's up to you! Our advice is always to do what you feel comfortable with and in line with how you want people to see you.
Glasses
Whether to wear your glasses is entirely up to you.
If you generally only wear them for reading and most people wouldn't be familiar with them, then it may be best to leave them off. However, if you wear them all the time and people wouldn't recognise you without them then you should probably keep them on!
Every pair of glasses is different in terms of size, shape, coatings, tint, etc. For the most part we're adept at avoiding flare when we take the photo, but if this isn't possible then we can also remove it during retouching.
If you're going to remove your glasses for the photos then please do so several minutes before. This way any marks from the nose pads will have faded away and won't be visible in your photos.
Similarly, if you'd like to have photos both with and without your glasses, take them off beforehand and we'll do the "without" photos first.
Retouching
With our busy and stressful lives most of us can't look our very best every day!
Blemishes and cold sores always come out for photo day. The kids get sick and keep us up half the night. We get a bruise playing sport. Or we have to entertain clients the night before and slightly overindulge….. We've seen it all!
Retouching is optional, but most of our clients do like to select their favourites for a gentle polish.
Our Headshot Retouching service covers things such as reducing any facial shine, removing blemishes, shaving rashes and flyaway hairs, brightening eyes and whitening teeth, removing bags under the eyes and softening wrinkles. We like to think of this as just making you look your very best, as if you're relaxed and well rested from a day at the spa.
On request, we also offer other adjustments such as removing grey hairs, removing braces, taking a little weight off, etc.